nau mai haere mai
Welcome to Term 1, 2019!
Hi, I'm Whaea Jenine and we are akomanga 11. We are ready for a great year of learning. This term our HERO value is organised, which will help us to focus on being ready to learn and to make the most of our opportunities. We will focus on whanaunatanga, building relationships, being positive and supporting each other.
He waka eke noa

We are all in this together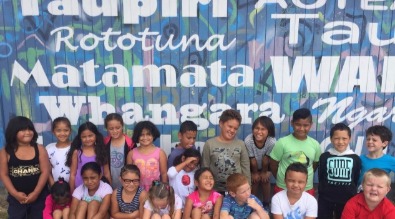 Swimming
We swim Wednesday, Thursday and Friday. Whaea Maria will offer free swims at lunch times. Year 3s on Tuesdays and Year 4s on Wednesdays. Please help our tamariki to remember their togs and towel in a plastic bag each swimming day. We will work on survival skills, including floating, and skulling; moving towards freestyle and back stroke.
Concept: Our Community
We will kick off the year learning about Waitangi Day. We will continue to learn our pepeha and develop an understanding of the communities we live in.
We will be using our Growth Mindsets: valuing mistakes, persisting when things are difficult and getting in the learning pit when things are scary.
Pause Breath Smile will help us to be calm and focused.
You're always welcome
Please pop in to visit us anytime. We will have lots of work we will be proud to show you and friends for you to meet.
Meet the teacher will happen in week 4, 19th February at 4.30pm. This will be a great opportunity for a casual chat, a sausage sizzle, and a swim for the kids.